Mazda's L-series engines are earning a reputation for variable vale timing (VVT) defects that can cause oil leaks, excessive smoke out of the tailpipe, loose timing chains, and catastrophic engine failure. Mazda acknowledged the problems in a "special service program" but, according to owners, has denied warranty coverage in many cases.
What is Variable Valve Timing (VVT)?
Valves control the flow of fuel, air, and gasses in your engine. They are an integral part of internal combustion which can be broke down into 4 key phases:
Intake: the engine takes in a precise mixture of air and fuel.
Compression: the pistons in the engine compress that air-and-fuel mixture.
Combustion: the pressure generated by compression is transformed into power.
Exhaust: the combustion gasses are released through the exhaust.
For phase 1 there's an intake valve. For phase 4 there's an exhaust valve. Both need to be opened and closed with precision, hundreds of thousands of times.
Early on, valves opened and closed for a specific amount of time only. That is wasteful and advances in engine technology now allow the timing, lifting, and duration that valves are left open to all be tweaked.
Variable valve timing (VVT) uses technology to control the opening and closing of your engine's valves in an effort to increase fuel economy, generate more power, and/or limit emissions.
Mazda's Issues with VVT
Automakers all use a variety of VVT systems, but they all come with one thing — complexity. In Mazda's case, a defect with the VVT has been known to lead to specific and costly problems:
When first starting the engine, a loud ticking can be heard from the VVT. This is due to wear and tear on the VVT.
While driving (under 2,000 RPM), excessive stretching of the timing chain can cause a knocking / rattling noise.
Left untreated these problems can lead to oil leaks, stretched out timing chains, and catastrophic engine failure.
Models Most Affected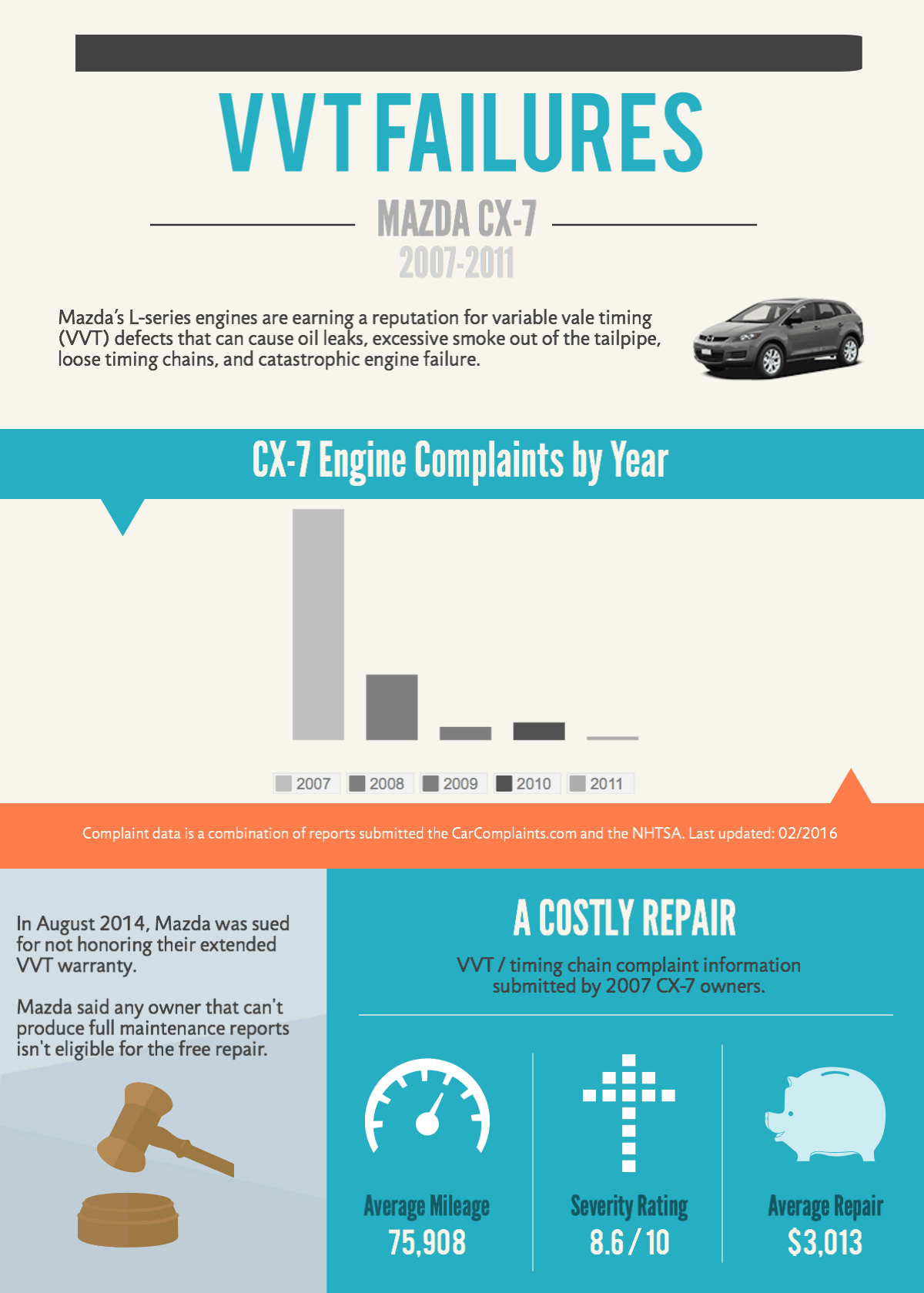 The VVT Extended Warranty
Because of VVT problems, Mazda issued a "special service program" to extend the vehicle's warranty to 7 years from the original start date, or 70,000 miles (whichever comes first).
"Mazda Motor Corporation has decided to conduct a Special Service Program (SSP) to extend the warranty coverage for the specific repair of variable valve timing (VVT) noise and/or timing chain noise concern, on certain 2007-2010 CX-7 vehicles equipped with L3T engine and produced from February 14, 2006 through February 26, 2010, and 2007-2010 Mazdaspeed3 vehicles equipped with L3T engine and produced from June 28, 2006 through February 27, 2010, and 2006-2007 Mazdaspeed6 vehicles equipped with L3T engine and produced from August 4, 2005 through June 30, 2007."
Mazda said it would replace the VVT actuator, or both the VVT actuator and the timing chain, free of charge if:
The mechanics were able to determine that the VVT or timing chain is worn
The owner can produce a comprehensive review of vehicle maintenance (showing sufficient oil changes and never using an engine oil of viscosity lower than 5W-30
Mazda Sued For Not Honoring Their Extended Warranty
The extended warranty means nothing if Mazda refuses to do the repairs.
In August, 2014, Mazda was sued for refusing to repair continuous variable valve timing assemblies in its L-Series engines. According to the lawsuit:
The defect can cause the timing chain to detach and destroy the engine
Mazda issued a technical service bulletin (TSB) and a special service program (SSP) about the problem
The company has refused to make necessary repairs under the extended warranty
Mazda doesn't dispute the first two points, but things get a little hairy with point number 3.
In the lawsuit, lead plaintiff James Stevenson says he was refused warranty repairs even though he "regularly maintained the vehicle by performing his own oil maintenance."
Mazda says without any maintenance records, they can't honor his warranty.
Do any of you change your own oil? Do you guys write up your own "maintenance records?" Yeah, exactly.
Mazda Filed (And Won) a Motion to Dismiss the VVT Lawsuit
Mazda says their extended warranty is clear:
"if the (problem) is caused by poor vehicle maintenance (insufficient oil changes or using engine oil of viscosity lower than 5W-30), this warranty extension does not apply."
Because Stevenson couldn't produce any records, Mazda says there's no way to know if the car was properly maintained.
On 07/13/15, in the US District Court of New Jersey, Stevenson agreed to dismiss the action.